About CRELA…In 2009, CRELA became organized by landowners in New Mexico. In unity we can be able to speak at the state and federal level with one voice. CRELA empowers landowners to know their rights about private property and endangered species. CRELA helps in the development of potential revenue streams. We encourage any landowner who shares the focus of our mission to join.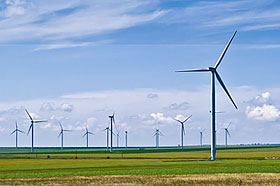 Our membership fees lets CRELA offer classes. We teach members what to expect from a renewable energy source on their property. We support the renewable energy in NM and surrounding states.  CRELA has interest in many areas of renewable energy. Solar, hydro, and gas powered turbines to name a few. Our efforts are often focused on wind turbines. The strength and consistent wind in our area is a powerful resource.
We offer speakers on endangered species issues at our annual and regional meetings. We want to see reasonable plans that work to preserve the habitat but that do not overstep or harm the landowner.
Membership in CRELA is an investment in your future; both by assisting in providing a new additional revenue stream and by protecting your private property rights.
Contact Dixie Heckendorn at dixieheckendorn@gmail.com to join today.
Here's all the details about the upcoming NNSBA Renewable Energy Institute Program